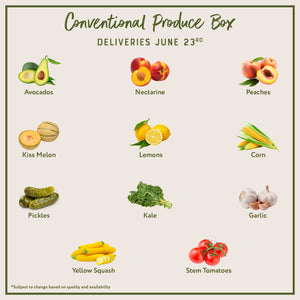 Boxes are packed daily with the Midwest's freshest produce. Small size is perfect for 2 people, large size is great for up to 4 people. Each box will include a variety of produce such as: apples, bananas, tomatoes, potatoes, lettuce, peppers, cucumbers, oranges, lemons, broccoli, onions, and other seasonal favorites.

Free next-day delivery on all orders placed Monday-Wednesday by 3PM CST.
Deliveries go out on Tuesday, Wednesday, and Thursday.
Small Box: 2 people / Large Box: 3-4 people

Subscription only, cancel whenever you want with no fees! 
Wonderful
Everything came in wonderful condition, definitely will order again.
Never received blackberries in my box
Always a good variety & Always Fresh
Made vegetable soup with the vegetables this time. Always fun to come up with things to make when the box arrives. Love the variety and the freshness of the fruits and veggies. Definitely recommend.
Everything was very fresh looking. Better than a previous box.
Grateful
So far so good.
I started receiving the small box when I broke my leg. It was a lifesaver then and I still enjoy planning my weekly meals based on the box. I appreciate the mix of fruits and veggies and everything always comes fresh, visually pleasing and tastes great.
Beautiful
Great produce this week! All perfect on fruit, too!