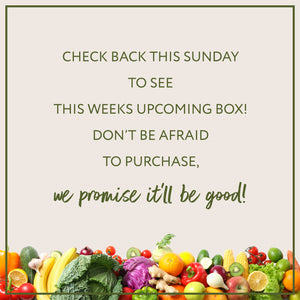 THIS is our all new Chefs Box! This box is designed to challenge your skills in the kitchen with a variety of produce items that are hard to find and unique to many restaurant chefs! There is zero expense spared on this box which is why our weekly price may vary! 
This box requires no subscription and includes free shipping. 
Deliveries every Thursday! 
excellent produce
I ordered tjhe chef's box....it was excellent and fresh.
Upscale items
I thought the mushrooms were especially good. They were fresh and firm.
I also thought the little red peppers were a nice touch.
All in all, everything was great.
Fun ingredients
I really enjoyed the Chef's box. Such great wonderful ingredients. I found some of the ingredients a little skimpy ... heirloom tomatoes and microgreens. But the mushrooms, potatoes and patty pan squash were generous quantities. I will definitely purchase again.