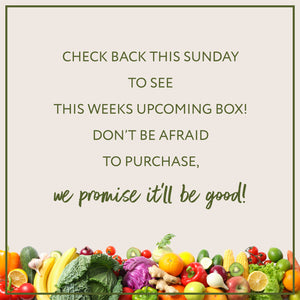 This is our brand new Fruit Box! Only available for a limited time, for the next 6-8 weeks you'll be able to receive a wonderful selection of seasonal fruit every week! 


Please note that this item is a subscription only item. You can cancel and adjust delivery days after purchasing via our subscription portal!
We will be offering free delivery on this box, and orders will go out on Tuesday, Wednesday, & Thursday.
This weeks contents of the Fruit Box will be released every Sunday afternoon!
Beautiful!
The fruit box was wonderful! Everything was fresh and beautiful! Thank you!
Looking forward to the next box.
Great fruit!!
It was the best selection of fruit!! So juicy and fresh!!! Good for my smoothies!!!
Amazing quality and value
Very pleased with the amount of fruit you get int the box and the freshness and taste of the fruit. This produce is head and shoulders above my grocery stores options and my family loves the variety. Really worth it!
Fantastic Fruit
We eat a lot of fruit and pleasantly surprised by the quantity and quality vs other at home delivery companies. Will keep ordering!
Ready for more
Last week I ordered the Fruit Box for the 1st time. I loved it. We are having lunch fruit, salads and fruit smoothies all week.
Amazing tastes on everything...
I cannot mention how terrific each box is and how excellent the taste ALWAYS is..never have I had a bad piece in any of the boxes...and look forward to all taste treats! Thanks!
Fruit Box - Amazing
I normally just get the produce box but this time I wanted the fruit box. Well, I was very impressed with how fresh the fruit was. I got a watermelon that was extremely tasty, blackberries were very sweet, strawberries were awesome, well, everything in that box was A++++! Definitely was a good decision to try the fruit box!